Pellucid – Golf Market Research Center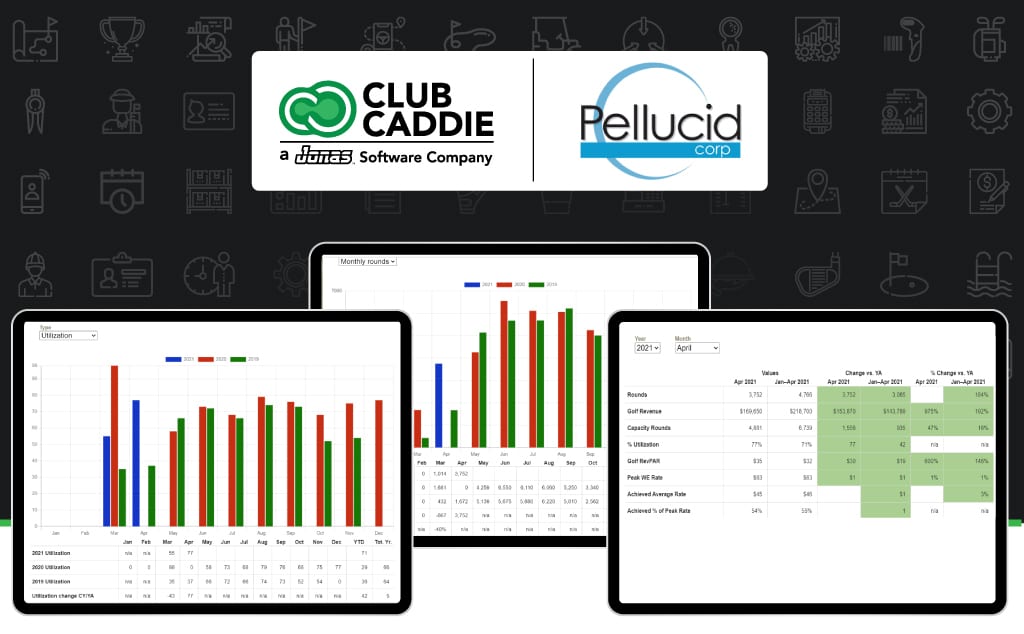 Pellucid Golf Market Research Center
Background: Pellucid has created the Golf Market Research Center (GMRC) to provide golf facilities comparative trend and Key Performance Indicators (KPIs) reporting as well future market/peer group benchmarking via a web-portal.  The benefit is time-efficient, integrated insights on facility performance which drives better-informed monthly business decisions.
What are the features of the GMRC?
Market Profile: 10-dimensional profile of the facility's Designated Marketing Area (DMA) including golfers, golfers/18-hole equivalent (EHE), Supply/demand imbalance, Supply level and mix, Facility-reported rounds, Velocity (rds/EHE) and % Utilization by facility type across 5 Pellucid facility types (Private, Learning & Practice, Pub-Regulation Premium/Value/Price)

Monthly Trends View – graph/table for the measures of Rounds and Utilization for any months ('18-'21) input into the facility data screen; any individual month and Year-to-Date for that month.

Key Performance Indicators (KPI) Scorecard – Shows Pellucid's 7 KPIs for course performance (Golf Rev., Rounds, Capacity Rounds, Utilization, Revenue-per-Available Round (RevpAR), Revenue per Played Round, % Achieved Green Fee), single page scorecard showing values for any selected month and the Year-to-Date (YTD) period compared to the same period a year ago.

Market/Facility Peer Group Benchmarking Scorecard – When there are enough facilities in the Market (25+) and/or by Pellucid facility type (5+/ea) we will produce the benchmarking scorecard against the average for the above 7 KPIs for the month and YTD periods (subject to participants' sample monthly size and stability)
How to be a part of the GMRC? Through a unique Pilot Program, any golf facility may register NOW for FREE up until May 31, 2021 and gain access to the GMRC.
The GMRC will officially "launch" on June 1, 2021 with a call for Charter Members.  At this time, all pilot accounts will be deactivated and facilities will be able to subscribe to the GMRC with Charter Member benefits until July 31, 2021.
NGCOA Members will receive a 10% discount off of the annual $500 fee and pay only $450 per year.  A single payment is required for Year One. Monthly payment options are envisioned for Year TWO and beyond.
Charter Members of the GMRC will receive the following benefits that will not be available to participants registering after July 31, 2021.
Lowest price guarantee going forward. If annual price increases occur in the future, the increase may be waived for Charter Members, or there will be a smaller annual increase for Charter Members in recognition of their upfront commitment to the GMRC network.

 

FREE access to two (2) Pellucid Weather Impact services via the web-portal, an annual $540 value ($360 & $180 respectively).  These include, each specific to your facility:

Cognilogic historical weather impact – the Golf Playable Hours and Capacity Rounds available by day, current month and YTD to compare against your played rounds to determine how much of the variance was due to weather vs. consumer demand or operational practices.

Foresight weather impact forecasting – the Capacity Rounds forecast for the next 60 days as well as variables which inform our algorithms (translating weather-to-rounds) such as forecast hi/lo temps, precipitation, etc., the year ago values as well as the 10 year norms in table and graph form

Participation in the Co-op Commercial Model – Charter Members will get direct benefit from the success and expansion of the GMRC in the form of Year Two and beyond annual fee reductions based on the initiative's economics.  The GMRC success is "your" success!  For example projections only, if the GMRC is successful in recruiting 500 courses in Year One, the Year Two rebate would be an estimated $25-$50 reduction in the annual cost ($450 NGCOA members, $500 non-NGCOA members).
How do I get started/more information?  If you want to register for the pilot program, email Jim Koppenhaver at Pellucid and provide the name of the facility and the name and email of the person you want to be the administrator in GMRC.  If you'd like more information, this 20-minute, recorded webinar (it will ask you to register to view, you're not signing up for anything)